BY MATT CARTERJanuary 19, 2022
Fannie Mae forecasts rising mortgage rates and home prices will dent existing home sales by 3.2%. Rising mortgage rates and last-year's record-breaking runup in home prices are expected to price many would-be homebuyers out of the market this year, denting sales of existing homes but bringing home price appreciation back down to more sustainable levels, Fannie Mae economists say.
"We expect the narrative around housing this year to shift from one of extremely limited inventories leading to hypercompetitive bidding wars to one in which increasingly more would-be homebuyers are priced out of the market," Fannie Mae economists said in commentary accompanying their latest monthly forecast.
New and existing home sales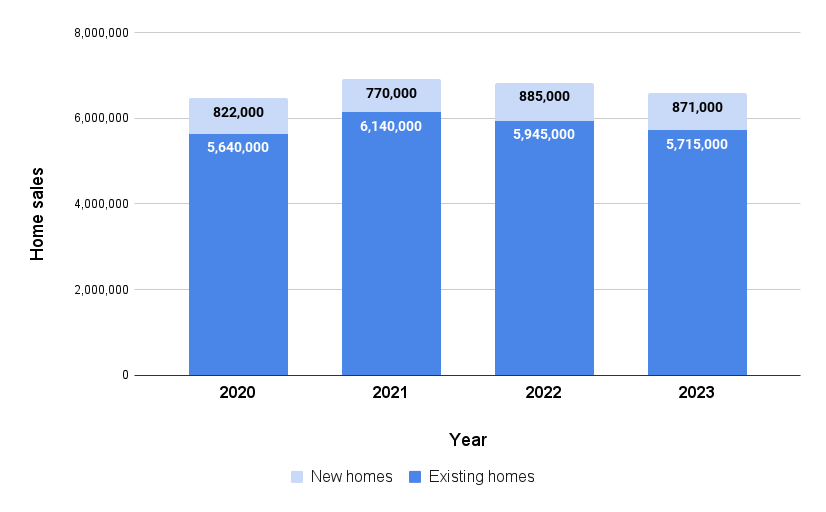 Source: Fannie Mae Economic and Housing Outlook, January 2022.
Fannie Mae economists see sales of existing homes falling by 3.2 percent this year, to 5.945 million, which would still be the second-best year since 2006. Sales of new homes are projected to grow by 14.9 percent, to 885,000, as builders start putting homes now under construction on the market. Even with the projected increase in new home sales, total home sales are expected to fall from 6.91 million in 2021 to 6.83 million this year.
But that forecast could prove to be overly optimistic, Fannie Mae economists warn, if mortgage rates continue to rise as the Federal Reserve winds down its purchases of government debt and mortgages and starts raising short-term interest rates.
"The Fed has accelerated the pace at which it intends to reduce monetary accommodation, as inflation appears more resilient than initially expected," said Fannie Mae Chief Economist Doug Duncan, in a statement. "Currently, we expect inflation to run above the Fed's two-percent target through 2023, and for the Fed to respond by tightening over that period. The resultant rise in interest rates will likely put additional stress on housing affordability measures vis-à-vis higher mortgage rates for consumers and the continued, though decelerating, rise in home prices."